A super review. Thank you, Rosieamber.wordpress.com
Rosie Amber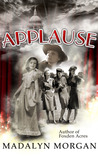 Applause by Madalyn Morgan
My rating: 4 of 5 stars
Applause is book #2 of the Dudley Sisters series of family saga books set in second world war torn Britain. This can be read as a stand alone book.
Margaret is the only Dudley sister to be currently married. Her husband transports MOD documents around by day and is an ambulance driver by night. But it is the theatre which has always interested Margaret.
The book opens with her almost injured by a partially falling building as she intently hurries for a job interview. The job is only an usherette but it is a start. Margaret's dream is to become an actress and nothing will stop her passion. She rises through the theatre taking on work in the wardrobe section and grabbing a chance to step in when an actress is ill.
Introduced to the nightclub scene by her acting…
View original post 382 more words